Body awareness and energy release
Training offer for individuals who already have previous knowledge in artistic, therapeutic, or self-awareness disciplines and wish to experience, acquire, and master additional key tools for body awareness and energy release. A journey to facilitate the emergence of creativity and well-being, with the aim of applying it in their professional field or for their personal growth process.
The training consists of a 104-hour journey, properly guided, through various learning experiences in the field of body awareness and movement.
The 11 modules that make up the training provide resources, acquired through deep experiential learning, that gradually lead to a more empathetic, self-confident, free, fluid, and creative body-mind relationship. The knowledge acquired is applicable in other areas – whether social, educational, therapeutic, or creative – only to the extent that it has been experienced, understood, and integrated by each individual.
The learning process combines and balances moments of opening and release with processes of strengthening the center and grounding, culminating in the recovery of an optimal body for creative movement, free from armoring. This combination allows for a transformative process that facilitates overcoming the limits we impose on ourselves based on our fears and corresponding defense mechanisms.
The training methodology is based on an experiential body process: experiencing release and empowerment through the 4 energetic bodies (physical, mental, emotional, and spiritual) is the most important step in living from a more conscious, fulfilling, and fluid dimension, more connected to our roots, our deepest desires, and our sense of purpose and vocation for service. On the other hand, the experiential integration of the acquired content ensures a high level of humanity and professional excellence when transmitting it to others.
Each module includes the acquisition of the corresponding theoretical content, supplemented with documents, articles, audio material, and recommended readings.
The guidance and coordination of the process, led by Raimon Àvila, includes 2 individual online sessions of 30 minutes each and 2 tutorials for the final project of 30 minutes each, as well as an additional in-person tutorial of 60 minutes.
To professionals in the social, educational, or artistic fields who wish to incorporate tools of conscious body work into their training repertoire: social educators, teachers, theater, dance, and music performers, monitors, healthcare professionals, physiotherapists, doctors, sports professionals.
To professionals in business, design, communication, or human relations who wish to incorporate new, more creative and innovative approaches to their work.
To anyone interested in movement and body knowledge as a means of personal growth and development, who seeks continuous training to deepen and further refine their instrument.
To understand the factors that allow for organic and unblocked breathing.
To gain awareness of personal mechanisms of movement blockage and have useful tools to release them.
To be able to identify the reasons for blockage in a group, individual, or couple interaction context.
To identify the experience of flow in movement and have resources to generate it within a group.
To identify procedures for releasing and increasing the flow of bodily energy.
To know and make use of "grounding" as a resource for security, support, and presence in movement and emotional states.
To know and use the "center" as a resource for balance and a source of vitality in movement and emotional states.
To know and use "verticality" as a resource for openness to intuition, perception, and creativity.
To release the natural, organic, and authentic voice beyond any blockage or resistance.
To experience creativity as a flow experience, emotional freedom, and connection with the here and now.
1.- FULL BREATHING (5 hours)
Date: Saturday, October 7th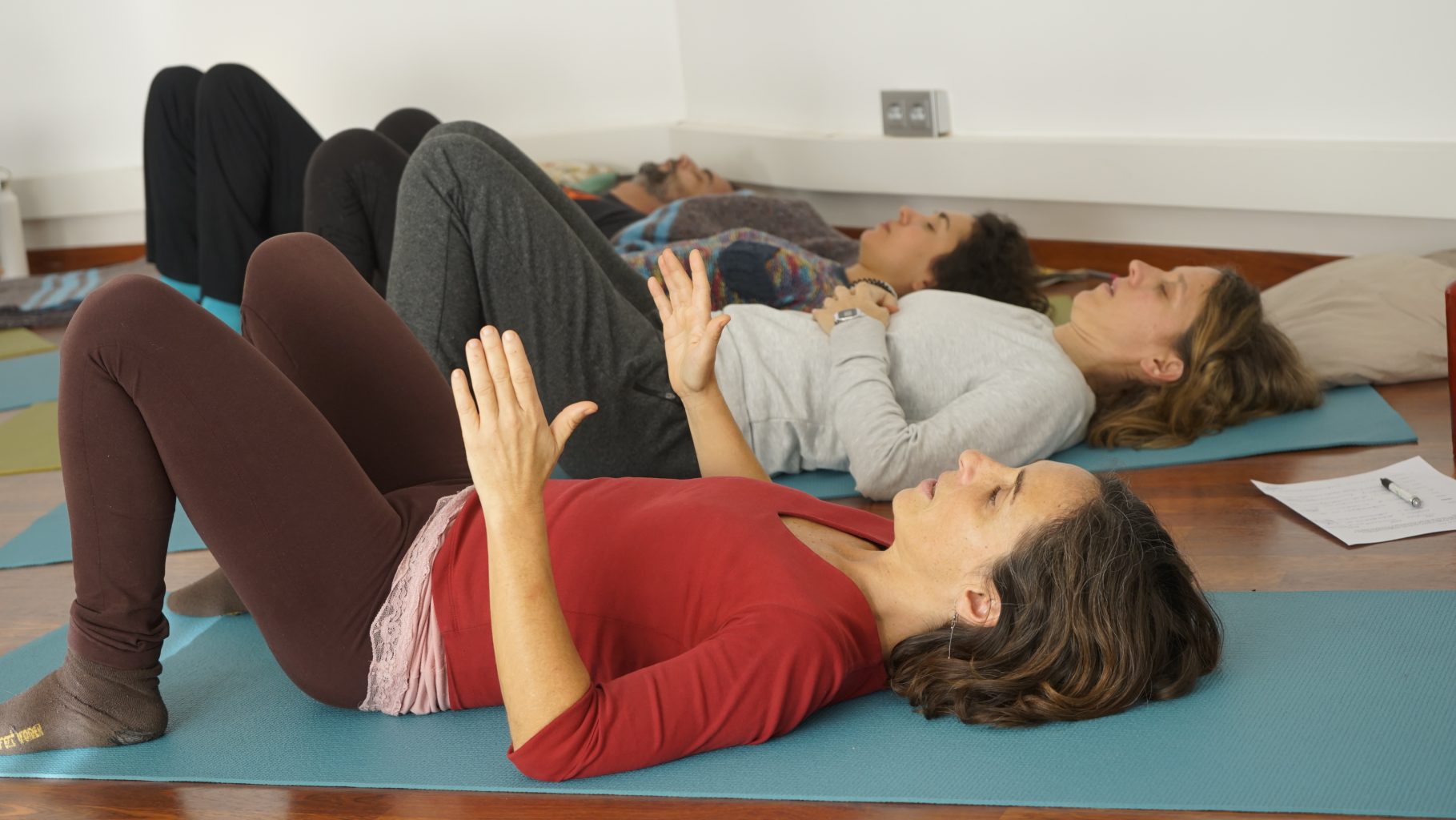 Breathing provides us with information about what we are experiencing and, at the same time, allows us to influence what we are going through. Ultimately, our way of breathing directly impacts the state of our body, and this, in turn, affects our emotions – which are organic expressions. But what would our life be like if, instead of trying to manipulate our experiences, we allowed ourselves to freely experience them? Undoubtedly, much more authentic.
That is precisely what we propose in this module through the work on Integral Breathing: to remember that our breath can be free and embrace our human experience in its entirety, without filters. Our breathing becomes difficult when we don't embrace what we are feeling. However, when we attend to it, it takes us directly to the body and thoughts, and what truly troubles us ceases.
In this breathing course, you will gain a greater self-awareness through practices where you will delve into your body to perceive it as it truly expresses itself.
2.- SEITAI. LISTENING AND UNBLOCKING (5 hours)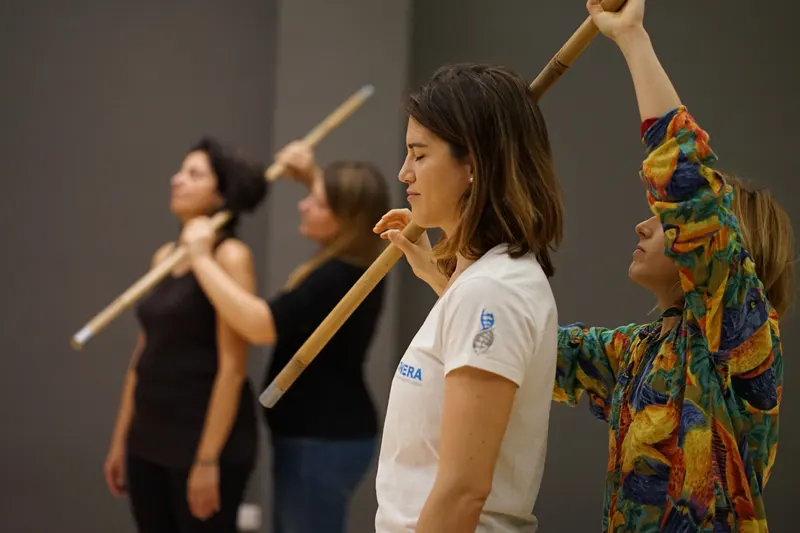 <strong>Seitai</strong> is a method of conscious bodywork that focuses its practice on observing the manifestation of <strong>spontaneous movement</strong> and the <strong>body's ability to self-regulate</strong>.
The excess of control and rationality in our lives is the cause of tensional imbalances that accumulate in our body, making it increasingly rigid and insensitive.
The main practice of Seitai, <strong><em>katsugen undo</em></strong>, promotes unlocking by facilitating the emergence of authentic movement, <strong>allowing the harmonization of tensions</strong>. Through this practice, excessive energy that generates stress and anxiety is <strong>balanced, restoring fluidity, flexibility, and sensitivity</strong>.
Seitai provides a direct, clear, and demystified experience of the sensation called bodily energy (<em>Ki</em> in Japanese, <em>Chi</em> in Chinese). It is through its perception and recognition that the movement of <em>katsugen undo</em> can genuinely unfold with organicity and become fully liberated.
3.- AUTHENTIC MOVEMENT (10 hours)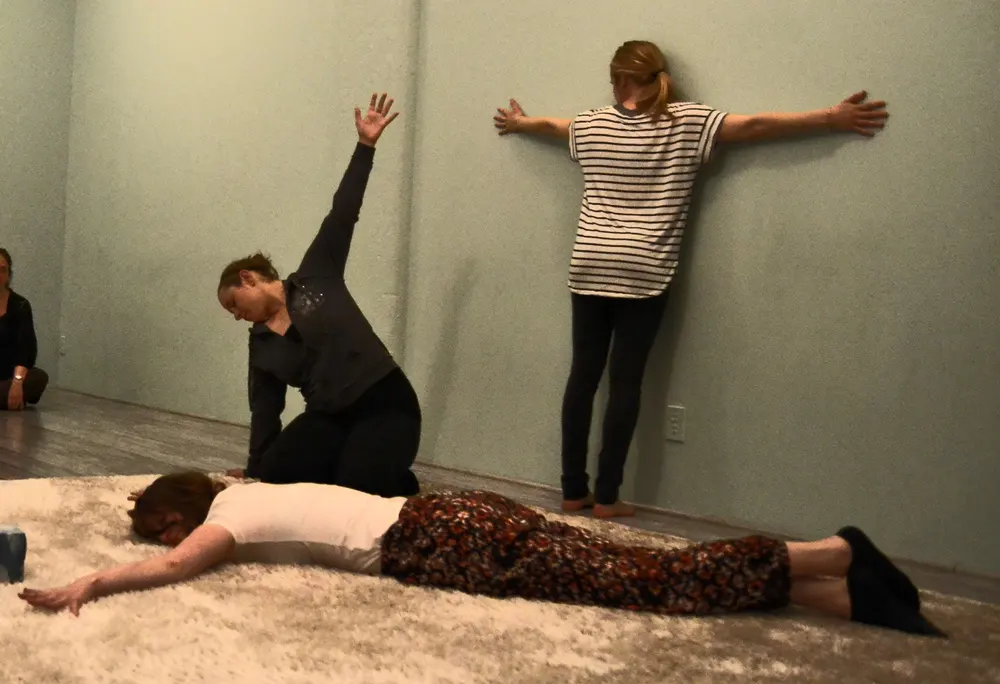 Authentic Movement is a discipline that has its origins in the research of Mary Whitehouse, a pioneer in Dance Therapy in the US in the 1960s and that her disciple , Janet Adler, developed into its current form. It is a practice that allows a deep connection with what is internal that needs to be expressed and that takes shape through movement, the voice, the sound and the encounter with the other. A voluntary vacuum delivery and to not knowing that invites the unconscious to manifest itself in a space of presence and relationship between directing the movement and letting oneself be moved by the impulses that arise from our sensations , thoughts, images, associations, emotions, feelings, and< span style="font-weight: 400;"> of the unknown.
This practice is based on the relationship established between the person who moves with their eyes closed and the Witness who with their eyes open, in stillness-silence and with their attention and gazing at the person who is moving, is listening to what is moving internally. body and soul.
4.- ARMOR RELEASE METHOD (10 hours)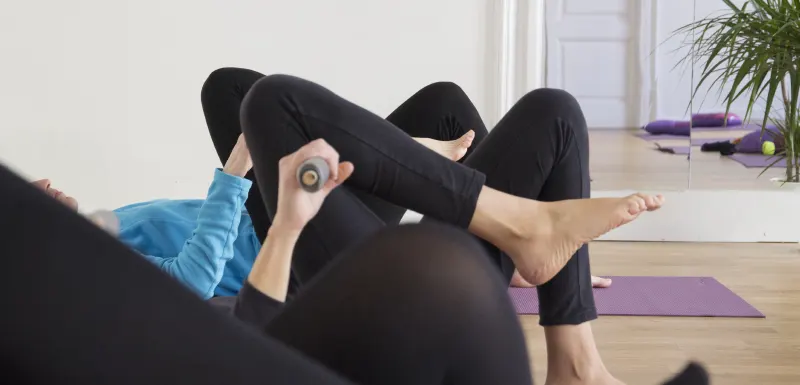 The work we do at MLC is done from the body. We will experience simple movements that make our tissues flexible in a gentle way and, at the same time, deeply. With practice we will notice that the level of muscle tension and stress decreases, the posture is directed, and we can find new ways to manage emotions and limiting beliefs.
The ultimate goal of this method is to connect with who we really are, with all the talents and abilities we have and to be and live as we really want. In other words, free ourselves from the armors that we have ordered ourselves to build throughout life and that perhaps we no longer want to carry.
Shells are created in our body due to muscle tension and joint stiffness and are hidden in our body to survive, fitted as capes defensive that react to external or internal aggressions and the different crises or tests that are part of life.
Throughout these two sessions we will focus on exploring the protective shell in its bodily, emotional and mental dimensions.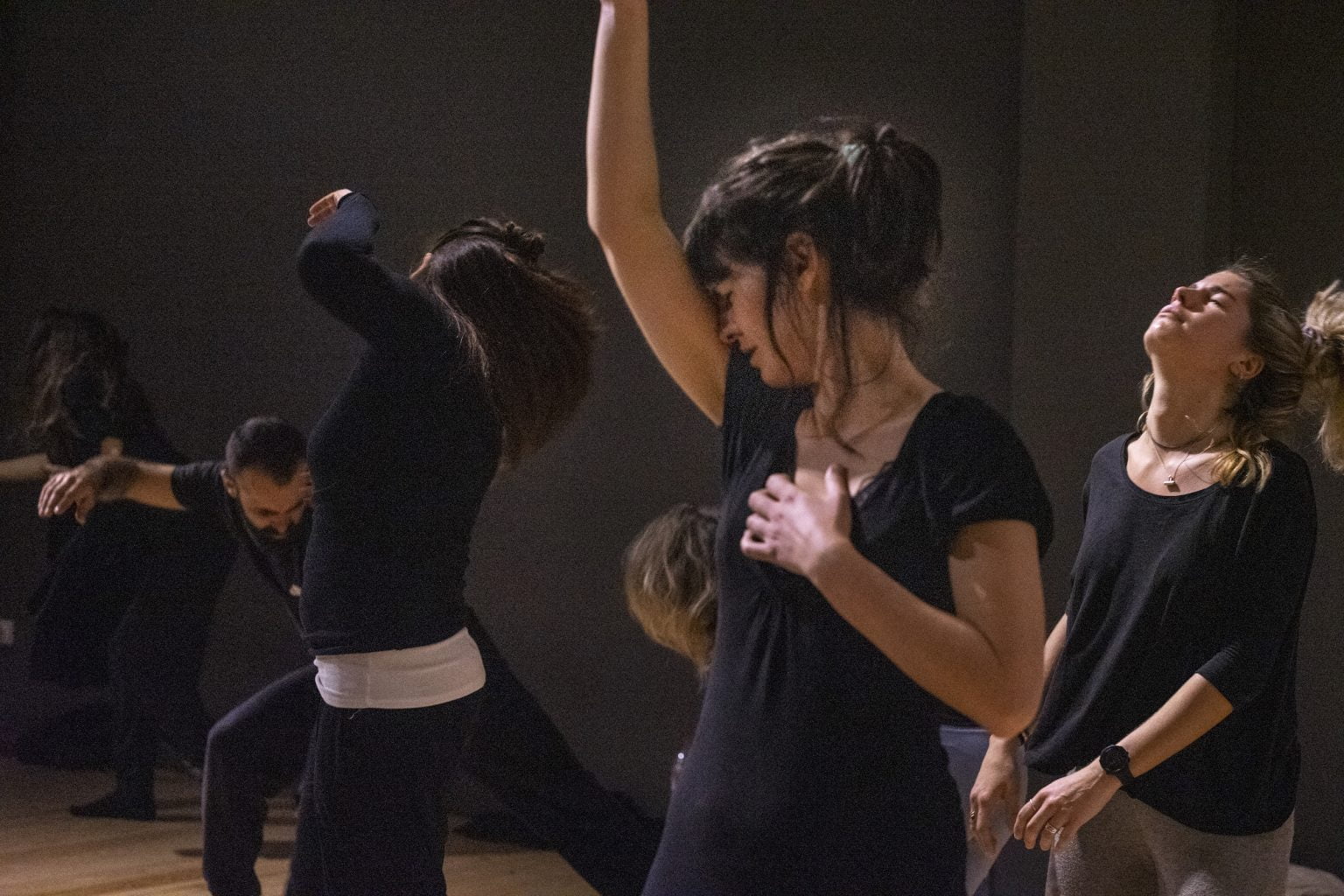 The 5Rhythms – Flowing, Staccato, Chaos, Lyrical and Stillness® – are states of being. They constitute a map of all the places we want to go, on all levels of consciousness: internal and external, forward and backward, physical, emotional and intellectual. They are markers on the way back to a real self, a vulnerable, wild, passionate and instinctive self. We know that our ego characters are parts of us that tend to run the show of our lives. We can see these characters as members of an orchestra constantly demanding attention by playing the same repetitive solos. Since we'll probably never completely get rid of our ego characters, we might as well give them a little airing so they become less clingy and domineering. Through the 5Rhythms dance method we will dance in the cave of our psyche to bring light and find these parts of ourselves, feel how they move and notice what thoughts and emotions bring them to the stage. This practice will allow us to enter the center of our being, our soul, where the director lives directing all our different characters. (THERE WILL BE A TRANSLATOR IN ARJAN BOUW'S CLASSES)
6.- HEALING MOVEMENT SYSTEM (10 hours)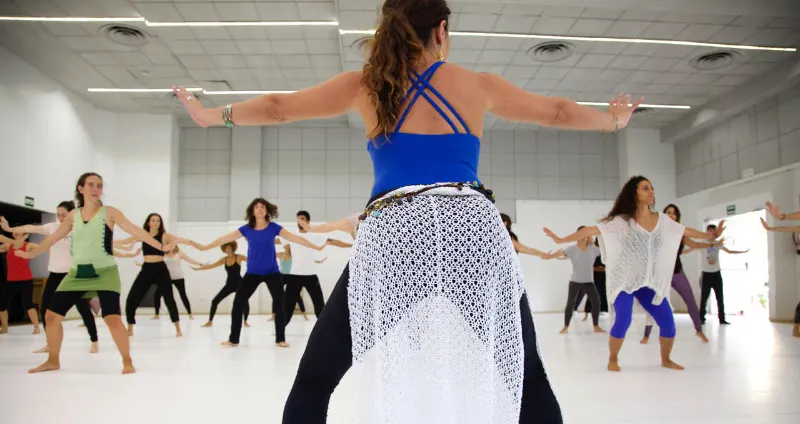 Healing in Movement is a method of self-knowledge and personal transformation, through movement, awareness and dance.
This pedagogy is based on the expanding of consciousness to see and understand the physical, mental and emotional structure that we have created in the course of our lives. This helps us to broaden our gaze towards ourselves to recognize ourselves in our personality and in the love of our essential being.
Through different individual and group dynamics of body awareness, movement and dance, Ana accompanies us to travel through your own body biography becoming aware of the relationship between vital energy, movement and character structure that it has shaped our body in the course of life, integrating, in this way, your masculine and feminine part to open you to the fullness of your Being.
7.- CONTEMPORARY CHI KUNG (10 hours)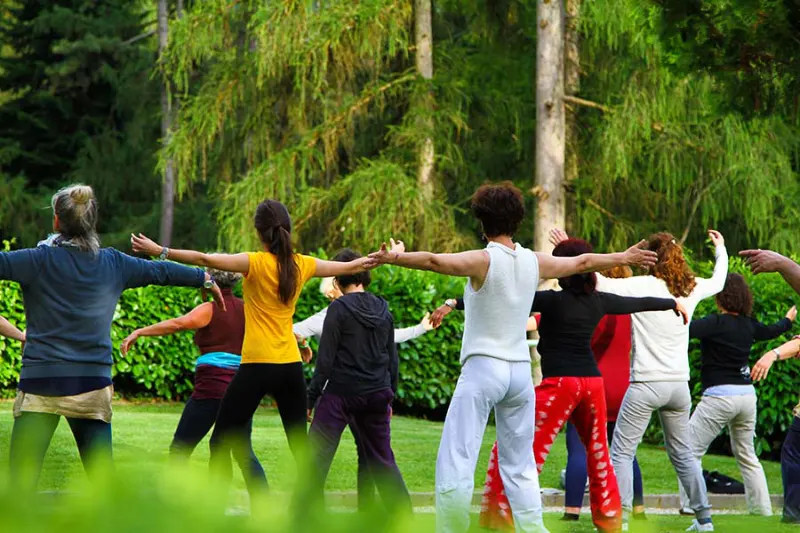 Contemporary Chi kung (or Qi Gong) is the art of cultivating energy: making it flow, balancing and storing it. It is part of the Chinese body techniques that encompass soft and meditative disciplines. It means training of vital energy .
Contemporary Chi kung feeds and enhances the perception of life that flows through the body; increases Chi, strength and vital energy; provides balance, guides, relieves pain and concentrates; and it opens the mind, encourages and allows meditation.
Through breathing and the perception of the body's supports, it introduces us to the present moment, the fleeting, magical and ephemeral instant of light. It allows us to enter a path of transformation that takes us from the material body to the spiritual one, which is formed in the place where we are at the moment we live, and which, following the teachings of philosophy Chinese Taoist, connects us with the Universe.
8.- CREATIVE MOVEMENT (10 hours)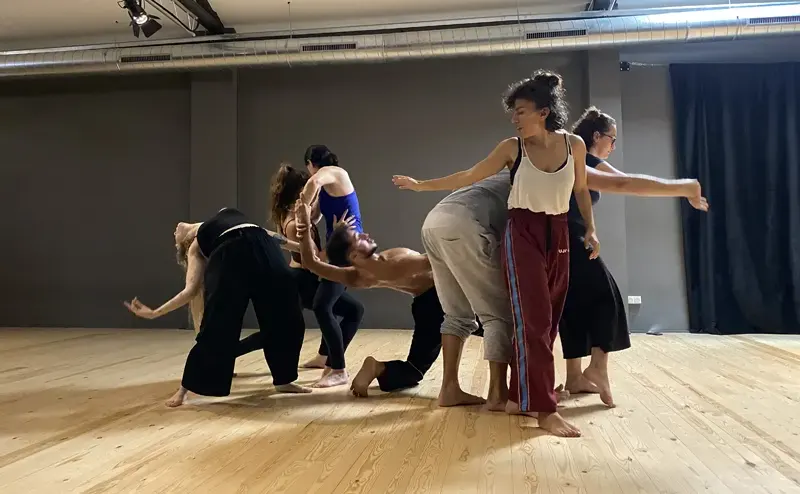 Experimenting with movement from the most realistic moments to the most absolute abstraction through the entire expressive range of each performer. What does the body want to tell? It is explored through through improvised movement where the priority is the message, the form appears later.
Emotional work as a source of movement. At a creative level, the ideas stem from the need for what we want to express and how we want to make the public feel. This emotionality is sought through the poetics of images and the interpretation of the bodies on stage.
Finally, particularity and corality are two fundamental concepts that reinforce each other. Work from the particularities of each performer, enhancing their personality and creativity.
Penultimate module of the training: the body has already experienced all the possibilities of unlocking and knows how to easily find its center. Free improvisation reveals, therefore, the final achievement of a body open to individual and group creativity.
9.- MANIPULATIONS AND VOICE (10 hours)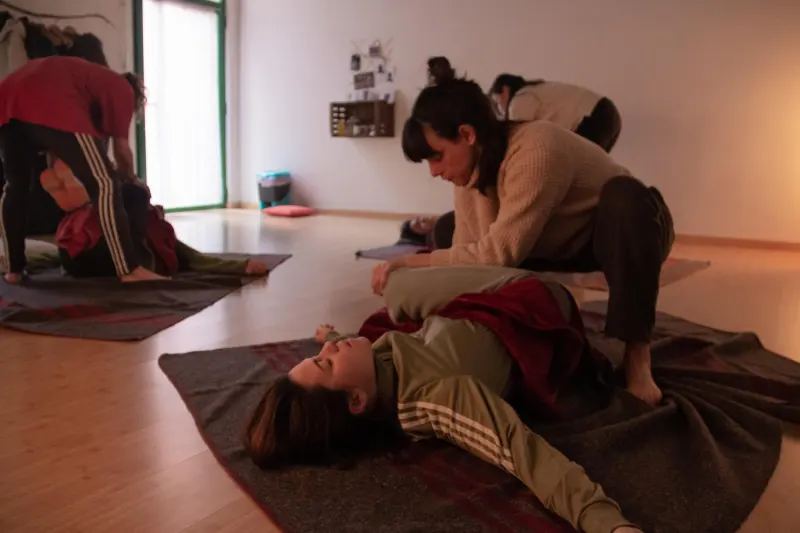 We know that the voice becomes available when we treat it well and this comes from treating the body well.
Bea Vergés and Mariona Castillo have joined their pedagogical trajectories (in the investigation of the body and the voice respectively) to arrive at a practice of touch and physical manipulations that generates a a state of confidence and pleasure from which the voice emerges easily, creatively, freely and renewed.
This work is specially focused on performing arts professionals and people interested in expression, in order to expand the full potential of their voice.
In the work sessions we enter the body by listening to our sensations and we start from where we are. Through contact work in pairs and with guided manipulations we amplify the perception of our body. The breath guides us to allow the voice with an attitude of investigation and curiosity.
10.- BUTOH DANCE (10 hours)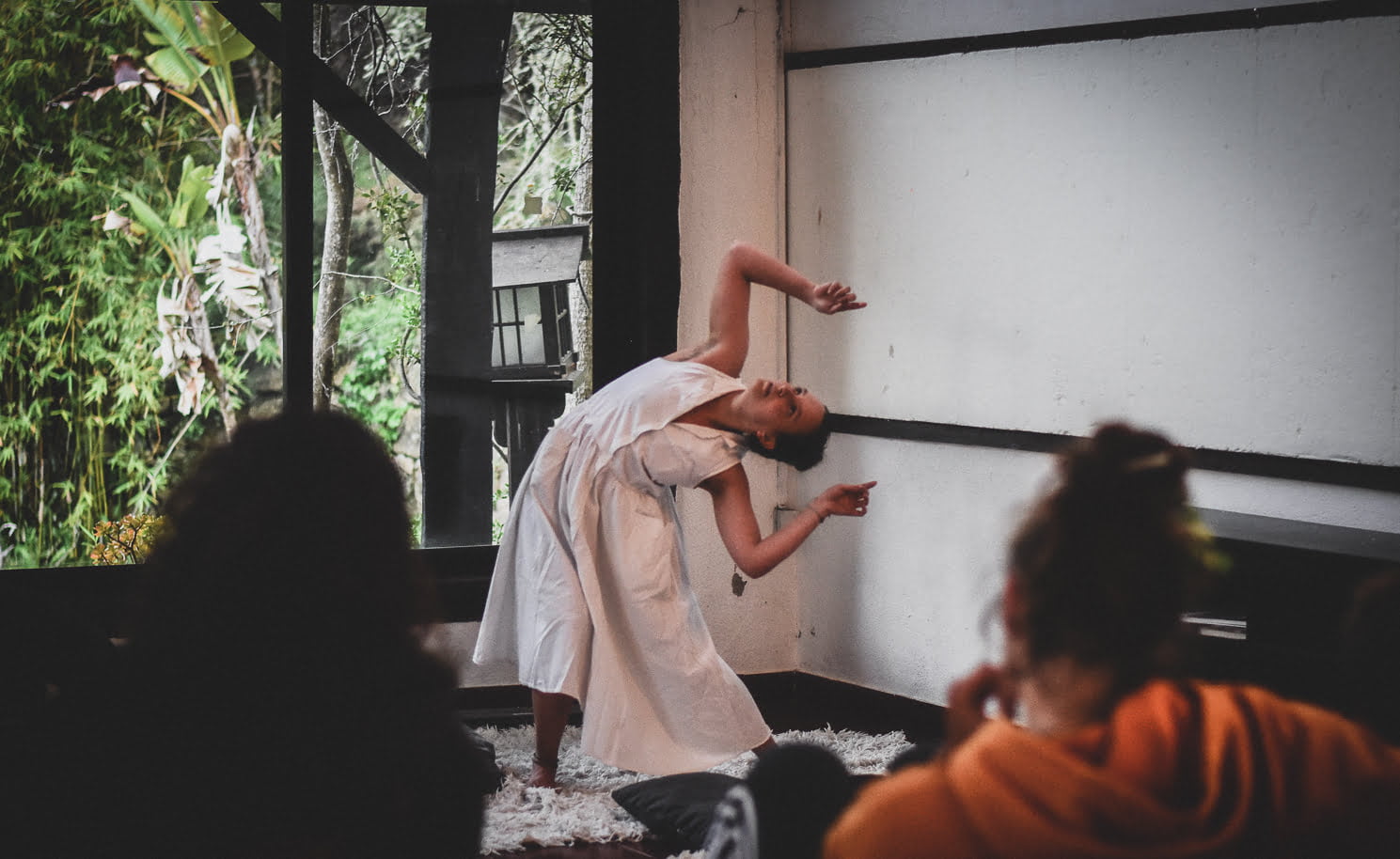 Creating a piece is either choreographing it or improvising it. These are the two opposing currents of Hijikata and Ohno, the creators of Butoh dance.
Creating a piece is a decision, it is choosing a standpoint, a starting point. It is making a pact. Repetition, that is, doing it again, is respecting the pact.
The facilitator will provide inspirational material and, above all, will ask questions to each participant so that they don't stray from themselves and can make decisions.
The artistic act is the decision, it is taking action rather than reacting.
How to create a piece, a work, a performance? Butoh is a performing art. While it is also used for art therapy or spiritual dances, it is primarily a performing art and responds to the same needs as other arts.
Creating is not about making something new. Everything already exists. What is new are variations of what already exists, of what has already been done. Everything is unique, and the uniqueness shines in its authenticity. Creating something authentic is not trying to fit in, not seeking to please or conform. That is the great difficulty.
This workshop will offer tools for authentic, personal creation. The facilitator will share her insights on the creative process, offering a variety of paths so that each participant can realize their own vision.
11.- PRESENTATION OF FINAL TRAINING PROJECTS
Date: June 29th and 30th Tribunal: Anna Sabaté, Raimon Àvila
Participants will have the option to choose one of these options to present before a tribunal consisting of the course coordinator Raimon Àvila and the director of Espai Philae, Anna Sabaté.
a Individual performative work of a maximum duration of 15 minutes, in which the knowledge learned and the skills acquired in terms of safety, unlocking, strength, communication, fluidity, creativity and stage presence will be revealed.
b Training session proposal for a specific group (social, educational, therapeutic or professional) in which unblocking, strengthening, empowerment and leadership resources are worked on.
The group is invited to attend the presentation of the final works of the rest of the classmates.
Total face-to-face hours:
91 hours
Individual follow-up tutoring:
2 online sessions of 30 minutes each
Preparation tutoring for the final project:
2 online sessions of 30 minutes each and 1 in-person tutoring session of 60 minutes
Group tutoring and module presentations:
2 sessions of 30 minutes each
Final project presentations:
10 hours
Dates:
From October 7, 2023, to July 1, 2024
Schedule:
Saturdays from 9:30 AM to 2:30 PM and Sundays from 9:30 AM to 2:30 PM
Price:
Course: €1,850 / Registration: €250 *
*10% discount if the full course fee is paid before July 30th
VENUE:
Espai Philae. Zaragoza Street 116, Barcelona.
Metro stations: Padua (FCC) and Lesseps (L3)
ADDRESS AND COORDINATION:
Raimon Àvila
ADMISSION:
Based on order of registration, motivation letter, and personal interview.
MAXIMUM NUMBER OF PLACES:
20
TITLE:
Own title accredited by Espai Philae
To be eligible for the title, a minimum attendance of 90% of the scheduled hours and successful completion of the final training project presentation are required.
REGISTRATION DEADLINE:
September 25, 2023